Volunteer
BE PART OF A MIRACLE!
Miracles Helping Miracles
If you are interested in volunteering and would like more information, please fill out our contact form.
Be inspired by a child with special needs. Volunteer for the children of The Miracle Project™ by leading them in dance, music, storytelling and theater workshops. By helping transform a child's experience, your life is transformed ten-fold!
You will receive a creative, dynamic and innovative training that will open your heart to all children and to celebrate differences in everyone. We also welcome TEEN volunteers for those of you who are seeking community service credit; and we welcome PEER volunteers to be role models as well as adult professionals.
You will also have the opportunity to perform in live theatre as well as participate in the making of an original film and CD recording. As you help others you will be having fun in a creative environment.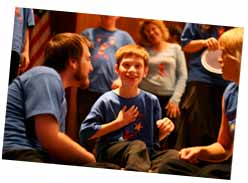 Staff, Jason Weissbrod and Student, Danny Wolf

Here is what our volunteers have to say:
"The Miracle Project not only offers fun and growth for kids with disabilities but for children without them as well. I love going every Wednesday. It is definitely the highlight of my week."
Volunteer, Lena Lobel (student)
"Being with the kids taught me that 'there is more than meets the eye'.
I feel so lucky to be a part of their fun! It seems there is a genuine kindness and honesty in the group that leaves me with a sense of appreciation."
Volunteer, Olanna Taskey (actress, model)
"The Miracle Project has had a profound impact on my life. In helping these special kids explore and grow through .movement, expression and music, it has opened my eyes to how joyful every moment of life can be."
Volunteer, Taryn O'Neill (actress, producer)
"Volunteering with the Miracle Project turned out to be an unexpected gift for my soul!"
Volunteer, Stephanie Sullins (attorney)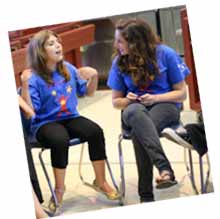 Student, Elena Goldberg and Volunteer, Lena Lobel