Community
THE MIRACLE PROJECT is about building community.
We provide a safe, dynamic, and nurturing space for all family members.  Children of all abilities participate in THE MIRACLE PROJECT alongside their typically developing siblings and peers.  Parents work together to help with costumes, sets, programs, and publicity and attend discussion groups.  Our volunteers are drawn from a wide range of professional backgrounds and offer a variety of skills.  Together, over the course of 22-weeks, we create an original musical performance that showcases the unique and wonderful nature of children who have special needs.
PARENTS benefit from having a new community of other parents and families who can fully share their challenges and triumphs.  Parents also help with both the practical and emotional support.
SIBLINGS benefit from the creative process as they practice compassion, patience and creative inspiration.
TEEN and ADULT VOLUNTEERS from the community help to bring out the very best qualities of the participants and keep them focused on the task at hand, and it turn, the volunteers themselves are transformed by their experiences.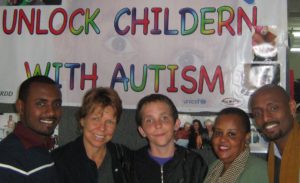 COMMUNITY benefits as the true gifts within each child with autism is revealed and embraced by all participants. Businesses are invited to sponsor Miracle Projects whereby giving them a front row seat to witness the miracles that happen every day with children with autism.
"It's such a pleasure to have an activity that both my typical daughter and son with special needs can enjoy together – and meeting other parents is great for me too."
-Michelle Wolf, Parent & Director of Government and Foundation Relations at The American Diabetes Association
"The Miracle Project has been great for our family because it enables the two girls to spend time together, and frankly, they don't always get along.  So, for them to be in a 
nurturing environment like this, doing something positive, it really helps us out.  It's real nice to having them together in one place.  It's one night where I'm not driving different places to pick them up and it's really nice.
"
-Gordon Frankel, Parent & Dentist
"I was surprised at how much I like it!  I usually don't like acting or dancing, but The Miracle Project is so much fun!"
-William Black, Sibling of child participant with autism